Signage is a vital part of any self-storage facility in order to gain new customers and fill up those units—your number one priority. As a self-storage facility owner, you need a sign that lets people know you are there and you have the space they need!
Electronic message centers (EMC) are one of the most effective forms of advertising for self-storage businesses. These clear, bright, eye-catching signs will help brand your facility and make it recognizable while also providing pertinent information to your audience.
Benefits of an LED Self-Storage Sign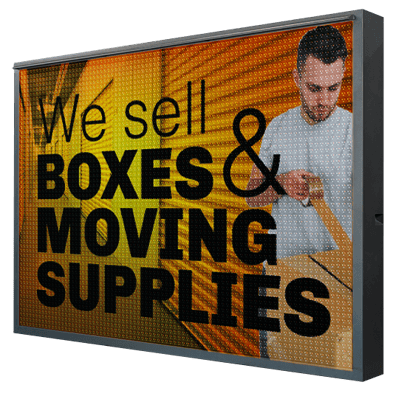 Your market is a broad one, ranging from families to business people. This means your marketing needs to be concise and effective and apply to many types of people. An LED sign will both set your self-storage facility apart from the crowd and draw in new customers, who will typically stay with your business for years to come.
LED Sign Efficiency
The U.S. Small Business Administration has performed studies showing that EMCs are the most cost efficient advertising method for small business owners. Since they work 24/7/365, LED displays provide you with constant promotion!
Plus, LED signs use about 10% of the energy that incandescent bulbs use. Adding to their value is the fact that you don't need to design and print a new sign for every new message. You can keep your content fresh and even run multiple ads at once.
AdChoice provides an easy-to-use program, our iCreate Software, which comes with a large library of images, fonts, and other designs, as well as the ability to schedule a rotation of messages. Your LED sign will make your self-storage facility a known landmark in your area, allowing you to display messages like:
Calls to action
Current sales
Holiday greetings
Community spirit
After all, those most likely to become your customers are the people for whom you're conveniently located. This means those who drive by on their way to work or other regularly traveled locations. Your self-storage business's LED sign will tell them the most important information:
Where you are
What you do
You are conveniently located
Specials and offers
You are their storage solution
Self-Storage LED Sign Messages
With an EMC for your self-storage facility, you'll enjoy numerous messaging options. Get creative and show bright images or even videos. Perhaps you want to run a promotion for one month of free storage for new home buyers, or maybe you want to let customers know you sell boxes and supplies they may need. If you have vacancies you are trying to fill, your LED sign is the perfect way to announce them! Do you need seasonal help? Run an ad for available shifts.
Sometimes, all it takes is a simple community greeting to remind people you're there: Congratulate the local high school graduating class, or wish people safe and happy holidays. With some imagination and solid messaging, your LED self-storage sign is sure to bring in new customers and keep current patrons coming back! For more information about self-storage EMCs, call us today at 800-379-0256.