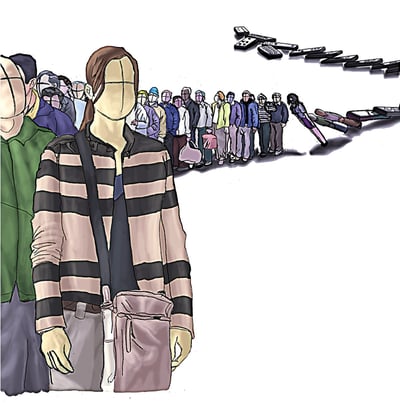 All successful business owners understand the needs and desires of their customers, including during wait times. Besides, you've been there yourself, standing in line at department stores during holidays or waiting through the morning rush at your favorite coffee shop.
Waiting is a necessary evil in the retail world. You can make the wait a little more tolerable for customers simply by using your LED sign.
Give Customers Something to Do
After a few minutes, chances are your audience has already gone through their Facebook, Twitter, and Instagram feeds. This is your chance to capture their attention with your LED display!
Try games or trivia; you can even make it interactive by having them share answers via social media platforms.
Display company news, updates about your brand, or even fun facts about your organization and staff.
Again, get customers to engage with your brand by posting something on social media.
Share Your Latest Deals
Customers standing in line or sitting in your waiting room are your ideal audience: Waiting without much to look at, likely already favoring your business. It's the perfect time to advertise your latest specials and enlighten customers about new products and features with your indoor LED sign.
Just be sure to do so tactfully and avoid bombarding them with promotions. In fact, you could give them the option to subscribe to your weekly or monthly newsletter emails.
Offer a Reward System
Show customers you appreciate their patience by rewarding them for their engagement while waiting. Use your LED sign to ask them to share their experience or information of their purchase online, and then award them with a promo code. You could also ask them to complete a brief survey or review in exchange for a coupon. Either way, it's a win-win: You get feedback (most likely the positive kind), and your customers leave feeling happy and valued.
Make It Uplifting
Give your patrons a nice change of pace by keeping it light. You could even get a few laughs by sharing a cute, relevant joke, story, or comic about your company or staff. If you're really ambitious, your creative team could even create a short video or animation for your LED display. In addition to lightening the mood, these things will help build a connection with your audience.
Keep It Brief and Inviting
No matter what kind of LED sign content you share, keep it simple and light. Assess the average wait time for a customer in your business and where they'll be waiting. Err on the short side in order to give your customers a complete experience; if your content piece goes too long, they may have to leave before seeing it through!
For example, if the average wait time for your customers is five minutes, make your content three to four minutes. Provide an option to repeat the activity, video, etc. for anyone who may still be waiting once it's done.
Remember the bottom line: Use a simple call to action to grab your audience's attention. If you've created a positive, engaging experience, they will readily give you some of their time.