As a sensible business owner, you most likely assess your advertising value based on cost per thousand exposures of your message to the public. By this measure, LED sign advertising is, without a doubt, the most efficient and cost-effective option.
The Proof is in the Numbers
A study from the University of San Diego School of Business Administration found the following: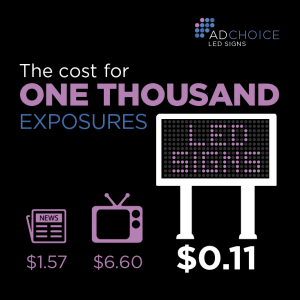 The price and life expectancy of signage varies widely depending upon the type. Assume an investment of $16,500 in an EMC that lasts seven years. The sign will be placed on a street that averages traffic of 60,000 people passing daily. This means that:
The cost per 1,000 exposures for such a sign would be just 11 cents.
The same $16,500 spent in newspaper advertising would cost $1.57 per thousand exposures, while television advertising would cost $6.60 per thousand exposures. Who can argue with numbers like that?!
LED Sign Advertising: The Obvious Choice
Just think: There is a whole audience of potential customers you are missing out on without an electronic messaging center!
An EMC is so valuable because it targets those people who are most likely to stop and become customers because they are passing right by your business. You can change the message on your EMC every day, multiple times a day, in order to stay relevant—unlike ads that appear in newspapers or on television.
Do those numbers have you wondering why you haven't already invested in an LED sign for your company? Not to fear! Call our friendly sales representatives today at 1-800-379-0256 to be on your way to purchasing the right EMC for your business, or view all AdChoice LED Sign models on our site.