Because of the fast-paced world in which we live, advertising a time-sensitive message and expanding one's customer base can create fairly big challenges for business owners. With a quality electronic messaging center (EMC) from AdChoice, you can get out timely messages to a wider audience!
Benefit From Timely Messaging
Did your hardware store just receive a truck full of shovels and snow gear right before an expected blizzard? Perhaps you're about to launch a great happy hour deal at your restaurant, or maybe it's tax season and your CPAs are waiting to help people file their taxes.
Your EMC will allow you to spread time-sensitive messages NOW. Eliminate the stress of waiting for print deadlines, production delays, or publishing dates. An LED sign is the most immediate, efficient way to deliver breaking news about your products and services to potential customers.
Reign 'Em In!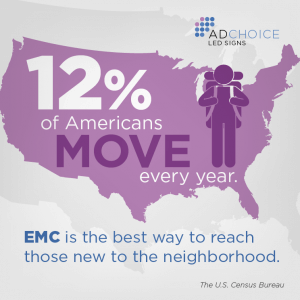 Today, people are always on the move. The U.S. Census Bureau estimates that approximately 12% of Americans move yearly! So while a portion of your customer base may be moving away, there is a great deal of opportunity thanks to the new people who move into your area.
Without the timely advertising of an EMC, the ebb and flow of your customer base could be tough to keep up with. An EMC is the best way to reach new residents in your neighborhood, or even those who are just passing through.
Plus, an EMC advertising message is more likely than any other advertising source to motivate a new customer to visit your business. LED signs can prompt impulse stops and change buying habits, thus bringing in a new, long-term customer for your company.
Browse our product selection to find an EMC that will work for your business. You can also call AdChoice at 1-800-379-0256 to discuss your options and start growing your customer base today!